After sticking more than 24 instant-read digital thermometers into pork chops, ice water, sous vide water baths, and frying oil, we still think the ThermoWorks ThermoPop provides the best speed and accuracy value for its price. It gets within 2 to 3 degrees of your food's temperature in less than 3 seconds, and has a long, thin-tipped probe that can get deep into whatever food you're uncertain about.
Our pick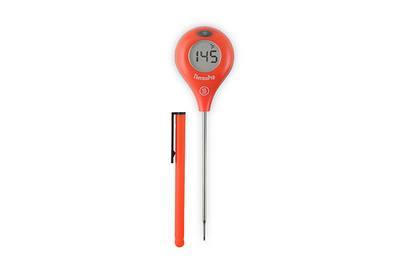 The best digital thermometer for home cooking
ThermoWorks ThermoPop
No thermometer that's less than $50 can deliver the ThermoPop's combination of speed, reach, reliability, and easy-reading display. It's also waterproof and has a long probe to read into deep dishes.
On top of its many primary pluses, the ThermoPop is also waterproof, works for right- or left-handed cooks, and easily switches between Celsius or Fahrenheit temperatures. Its display has a backlight and rotates in four directions, and its digits are large and can be easily read at most angles. It's not the absolute fastest thermometer we tested, but it will comfortably cover most needs in home kitchens. And it is far, far better than the bulk of digital thermometers sold for less than $30.
Runner-up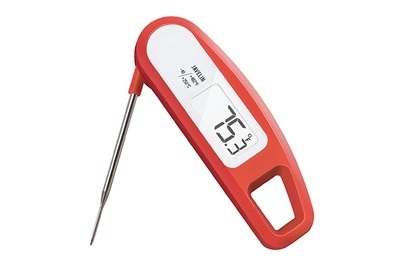 If our top pick is sold out, or you don't want to fit a stick-like gadget in your kitchen drawer, the Lavatools Javelin is probably the next-best thermometer for less than $50. It averaged less than a half-second slower than the ThermoPop in our tests; factor in human finger-on-a-timer-button error, and that's very close. Its probe is notably shorter than most thermometers, it's not as waterproof, and its display does not have backlighting or rotate. But it's easy to fit in any drawer, or stick to a fridge, and you can add it onto an Amazon Prime order for about $25.
The mid-level upgrade for enthusiasts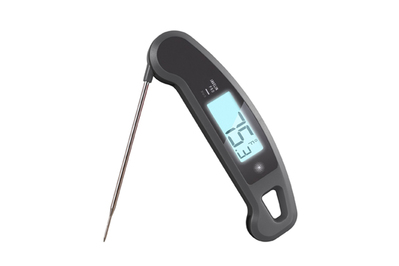 The Javelin Pro Duo is nearly 1 second faster at reaching a true temperature than the ThermoPop in our tests, and its folding probe style can keep your hands away from high heat or steam.The Lavatools Javelin Pro Duo is the midpoint purchase between our top pick and the reigning $100 best-in-class thermometer. It has a few features the ThermoPop lacks, like a stabilization alert (beep), a button for holding temperatures or tracking minimum/maximum temperatures, and tenth-of-a-degree display. It also has a magnet that lets you keep it on a nearby appliance, rather than loose in a drawer.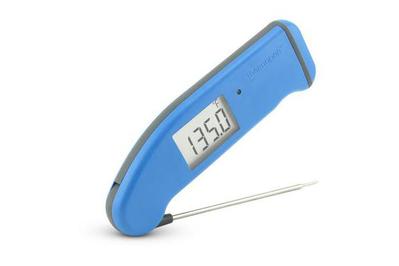 Most people don't need to spend $100 on the best instant-read thermometer. But if you're the type who cares, deeply, about the difference between meat cooked to 125 degrees Fahrenheit versus 130 degrees Fahrenheit, or have other cooking projects that demand to-the-degree accuracy, the Thermapen Mk4 is the easy choice. It was on average 1 second faster than our mid-level pick, the Javelin Pro Duo, at temperatures in the mid-100s (where most cooking happens). The long probe makes you confident you're getting readings from deep within your food, and it is recommended by just about every serious culinary reviewer.
Who needs a digital thermometer
Every kitchen that sees regular cooking should have a reliable thermometer for food safety and better cooking. If you have only a slow, analog (dial) thermometer, you need to upgrade.1 Digital thermometers quickly inform you of what's going on inside your food. With their needle-like probes, they can report when dishes have reached safety temperatures, or optimal doneness, without their being cut open and losing juices.
If you have only a slow, analog thermometer, you need to upgrade.
If you've been cooking a long time and you have great instincts, you don't need an instant-read thermometer for most of your meals. But even professional chefs like taking the guesswork out of dishes, especially meats, on occasion. For beginners in the kitchen, a good thermometer is a necessity to avoid overcooking steaks, undercooking fish or chicken, and learning the baseline timing of their stove and skillet. While dial thermometers may technically work, the best analog thermometer only scored about as well as the worst instant-read thermometer in Consumer Reports's tests (subscription required). Analog thermometers are also harder to read accurately and contain mercury, which is harmful to you and the environment.
If you want a thermometer you can leave inside your roast in the oven or attached to your grill or smoker, you're looking for a probe thermometer. We recommend the ThermoWorks ChefAlarm in our guide to party gear.
How we picked
Any working thermometer will eventually report the right temperature (or at least catch it as it rises or falls). What matters most in a good kitchen thermometer is speed and clarity: how quickly you can turn it on and clearly see a steady reading of the temperature inside your dish. This requires a thermometer to quickly jump toward the final temperature, rather than slowly rise and leave you guessing.
The probe on a thermometer should be thin at its point to minimize juice-leaking punctures, and long enough to reach the center of roasts or deep pots. Your hand and fingers should be able to avoid heat or steam while holding it. A good thermometer covers the whole temperature range of home cooking, from below ice water (32 degrees Fahrenheit) up past very hot frying oil (400 degrees Fahrenheit). The temperature display should be readable at different angles.
All of that―based on research, home cooking experience, and interviews with chefs―is what we're looking for in a digital instant-read thermometer: speed (both to approximate temperature and a precise reading), probe performance, temperature range, features and interface, and the feel of the thermometer in your hand. Other features are nice to have, but not as important.
When we started this guide in 2013, we looked into more than 100 thermometers that had notable reviews on Amazon and other online stores. We considered guides by respected testing publications Consumer Reports and America's Test Kitchen (both require subscriptions), and a selection of cooking and product review blogs. Nearly 100 thermometers have been considered in three distinct updates to this guide. We tossed out models whose range didn't reach 365 degrees Fahrenheit (decent frying oil temperature), and took a dim view of those that couldn't go past 400 (for peanut and other high-smoke-point oils). Other models had dealbreaking flaws, terrible reviews, poor availability, or seemingly no warranty or support.
With some exceptions, we find every year that thermometers retailing for $20 and less were slow and felt cheap, and were often barely distinguishable copies of one another. Thermometers with faster-reading thermocouples and accuracy-adjusting electronics cost more than thermometers based on smaller, cheaper thermistors. Since our first tests in 2014, many more thermometers have filled in the space between $20 and $100, which is a good thing.
The models we tested for our 2016 update to this guide include two thermometers suggested by readers, both made by Maverick: the PT-50 and the PT-100. We also tested updated versions of models made by ThermoWorks (the ThermoPop) and Lavatools (the Javelin and the Javelin Pro Duo), alongside our standing pick for serious home cooks, the Thermapen. No other new thermometer, especially at a price lower than $50, met our basic criteria or impressed us with its features or reviews.
How we tested